---
Canadian Molnija pocket watch, 18j, 3602 movement, 1980's
Made in the early 1980's
Serial number: 491445, movement type: 3602, stem set & wound
18 Jewels
Solid Silveroid case
Weight: 94g
Diameter without stem: 49.5mm, 16mm thick
symbol of the chelyabinsk watch factory on the main bridge.
This symbol of a train wheel with wings can be seen on Russian pocket watches with a railroad design. Russian railway officers had since the 1970's a similar emblem of a wheel with wings on their caps. The "winged wheel" was a symbol of speed and technology used by transporation and communication companies in the east and the west.
The Marathon Watch Comapany imported these watches from Russia and sold them under its own brand name in Canada and the US.

These vintage watches are carefully restored and the movements are adjusted to a level that exceeds the original manufacturer's specification. They do really keep time and they will work reliably for many years to come. All our watches are vintage masterpieces that are individually restored and tested.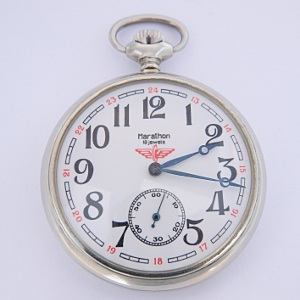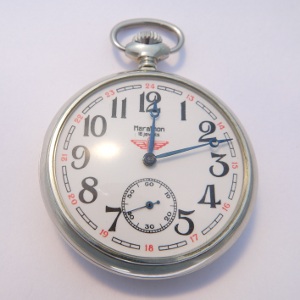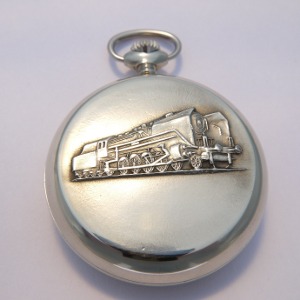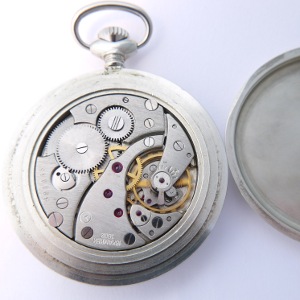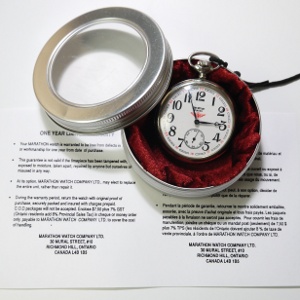 The watch comes in a velvet lined presentation box. We include a string to tie the watch to a belt loop (see: why not use a chain?). You get as well a copy of an original certificate as it would have been included with this kind of watch in the 1980's when the watch was originally sold by Marathon. This copy of the warranty certificate is a historic document. Marathon is not providing any warranty for this watch.

Back to main page of the watch shop